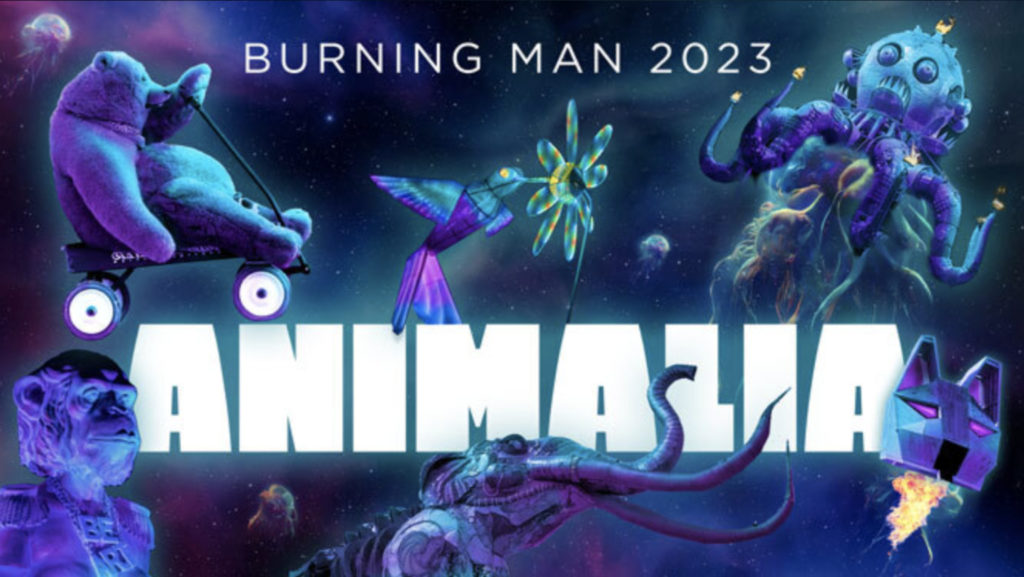 With Burning Man 2023 just weeks away, it's a dash to get all your gear and belongings (or lack of) prepped for the annual community focused event in Black Rock City. 🔥🏜☀️ We know that feeling of excitement 😝 and anxiousness 😫 while counting down the days til' Burning Man ⏳, and hoping that we don't miss any important items. Luckily, at Festival Inspo, we've got our 25+ essential packing list for new burners and vets alike, and newly updated gear this year! 🙌 Check out our quick Burning Man packing guide to help with last minute supplies.
To save time and convenience, our burner approved list of playa readiness gear can be found on Amazon, to aid your desert dwelling needs. At no cost to you, when you buy through affiliate links on our site, we may earn a commission. Be sure to catch all of our additional pro tips ✔️✔️ to survive Burning Man.
FIND HERE: 25+ Essentials Camping Guide for Burning Man – Playa Ready Gear
This year's theme is Animalia and we can't wait to see what beautiful creatures and spirit animals will roam the playa desert like yourselves! 🐋🐙🦃🐌🦖🐘🦘🐝🐮🦄🙈 Be you and be true! And remember, ALWAYS HYDRATE! 💦💦💦 (we've had our fair share of experiences…)
🌪 Dusty hugs and see you soon, friends! ✌️
Goin' )'(ome ❤️‍🔥
---
Burning Man – Gear for the Playa (Updated 2023)
Camping Chair and Set
After a hot day of exploring the playa, you'll certainly want a place to sit, lay, or rest. A chair and table set provides valuable space where you can place your drinks/food and miscellaneous items, rather than just the dusty ground. Having your own camping chair ensures you'll be able to plop down, especially as you come home to your campgrounds. You can choose a mini attached tabled or separate pieces as you see fit.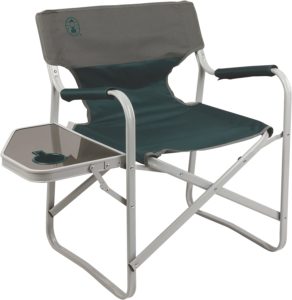 WHERE TO GET IT: Coleman Outpost Breeze Portable Folding Deck Chair with Side Table
Lounging with your full body is just as nice and relaxing when you can recline. Trust – it's added comfort.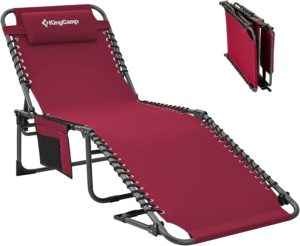 WHERE TO GET IT: KingCamp Chaise Lounge Outdoor 5-Position Adjustable Patio Lounge Chair,Folding Tanning Chair for Lawn,Beach,Pool and Sunbathing,Portable Heavy-Duty Camping Reclining Chair with Pillow
Folding Camp Table
At home base, when you're gatherd amongst campmates or want share snacks with friends, a handy folding table can hold up your belongings. Find something that can easily be stored and adjusted for your needs. A table for the communal space provides a lot. PRO TIP: Be sure the table is sturdy enough to be held down, and won't blow away.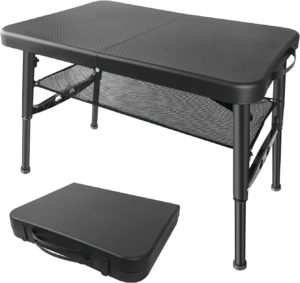 WHERE TO GET IT: Boreeman Camp Table, Beach Table, Height Adjustable Small Folding Table, Portable Table, Also Perfect as RV Table, Picnic Table, Lap Table, Bed Trays for Eating and Laptops
Refreshing Coconut Water
As hydration is quintessential to keep you regulated under the desert sun, be sure to drink plenty of natural fluids. Coconut water can be a refreshing quencher and contains natural electrolytes, potassium, sodium, and magnesium. Multiple packs are recommended for your week-long adventure on the playa. PRO TIP: Smaller bottles are less bulky and easier to carry around with you if you're out and about.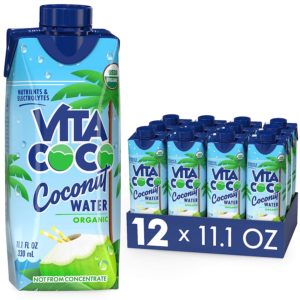 WHERE TO GET IT: Vita Coco Coconut Water, Pure Organic | Refreshing Coconut Taste | Natural Electrolytes | Vital Nutrients
Quick & Easy Low Prep Meals
When you just don't have the energy to whip up a meal on a stove, why not opt for a satisfying freeze dried meal that can be made within minutes – using just hot water! You may be surprised by the taste and quality of these dishes, made of REAL ingredients, with a whole variety ranging from a breakfast skillet, to beef stroganoff, to dark chocolate cheesecake, and more! PRO TIP: They're lightweight and easy to pack with an extended shelf life that can last years even if you don't open it!
Select your favorite individual flavor choices. There are many!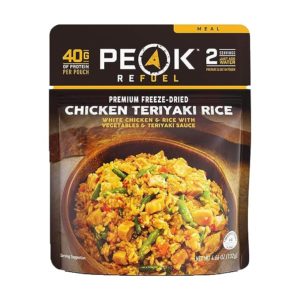 WHERE TO GET IT: Peak Refuel Chicken Teriyaki Rice | 40g Protein | 580 Calories | 100% Real Meat | Premium Freeze Dried
Grab a pre-bundled variety pack.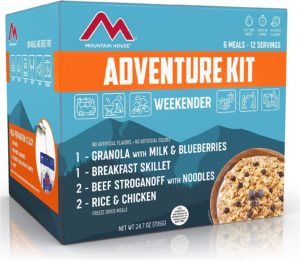 WHERE TO GET IT: Mountain House Adventure Weekender Kit | Freeze Dried Camping & Backpacking Food
Portable Power Station
If you're really looking to go off the grid, but still need some power supply for keeping smaller devices charged or lit, consider bringing your own mid-sized power station. With a portable handle, you'll be able to move this around your living space. Charge up your power station ahead of your trip for maximum supply. These power banks can also be solar charged (solar panel units not included.)
PRO TIP: When outlets on the power station are unused, use blue painters tape to cover to holes and gaps to keep the playa dust out!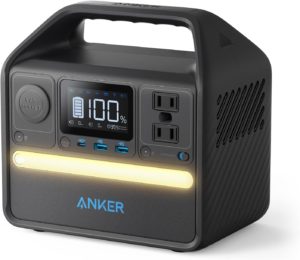 WHERE TO GET IT: Anker 521 Portable Power Station, 256Wh Solar Generator (Solar Panel Optional)
Some variations come with a wall charger and car charger ports!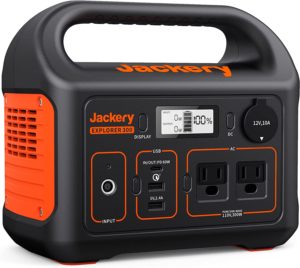 WHERE TO GET IT: Jackery Portable Power Station Explorer 300, 293Wh Backup Lithium Battery, 110V/300W Pure Sine Wave AC Outlet, Solar Generator
Digital Watch
Planning to partake in some of the awesome scheduled events on the playa? – You'll probably want to know "What time is it?" If you're truly shutting down all your devices, a good old fashion wrist watch could save you from countless times you might miss breakfast or coffee being served by a camp across the city, or a scheduled burn on a special day. PRO TIP: If you're concerned about protecting your high-end watch, opt for an affordable basic one that can take some wear.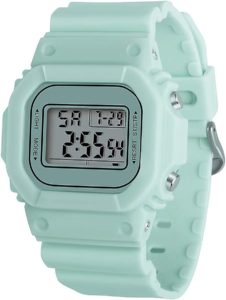 WHERE TO GET IT: Women Digital Watch Girl Sport Resistant Outdoor Waterproof Electronic Watch with Alarm, Stopwatch, Luminous Night Light Men Boy Military Watch
Bike Seat Cushion
If you'll be taking a bike around as your primary mode of transportation, you may find that after several days of biking atop stiff playa sand and soft sand patches in the midst of occasional dust storms, being on the bike may start to feel a bit uncomfortable. What's great about bikes is that you have the option to modify them as you'd like. For ensuring a bit more comfort, a wide seat cushion or even a seat with a back rest will offer more ease. PRO TIP: When standard bike seats start to rub or bruise in between your legs, make sure to protect the skin surface areas with cloth or material layers for some relief.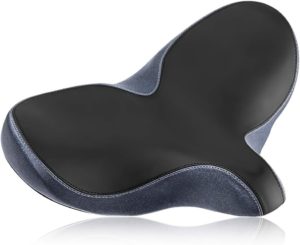 WHERE TO GET IT: Oversized Comfort Bike Seat Comfortable Replacement Bike Saddle Memory Foam Soft Bike Saddle Waterproof Universal Fit Bicycle Seat for Women Men
Bike Storage Basket
Prepare your bike with additional room to carry or transport items with you while on the playa. Make it easy on yourself by installing quick bike rack or basket ahead of time. Trust us, if you're on duty to grab ice, you'll already equipped to bring those ice bags back to camp! PRO TIP: Find more versatility when you get the basket with wheels!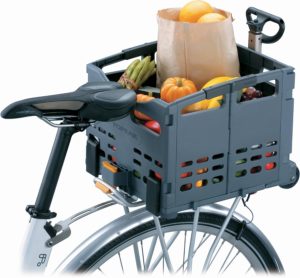 WHERE TO GET IT: Topeak TrolleyTote Folding MTX Rear Bike Basket
Sleeping Eye Mask
Whether you're a heavy or light sleeper, you may find the sunlight creeping into your sleeping area. If you're wanting to block out more sun, a sleeping eye mask can do the trick. Some eye masks even have cooling effects, but a basic one that has contours and properly covers the eye area, should do just as well.  PRO TIP: Pairing an eye mask with some sleeping ear plugs may allow you to catch some extra zZzz for a tad longer.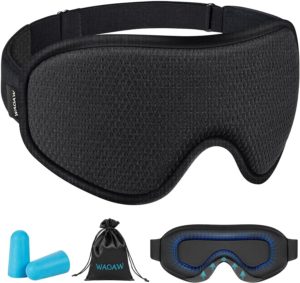 WHERE TO GET IT: WAOAW Sleep Mask for Women Men, Eye Mask Sleeping of 3D Light Blocking Blindfold
---